Which holiday focused on by Misil Craft and what holidays focused on for our customers ? No Matter small or big customer,we know everyone notice the production lead time to work everything could be done smoothly, and we have holiday to take rest or enjoy with family, during special holiday of our customer, we also focused on and in this time our customer have some holiday season event. So we want to write down holiday details for all of our new or old customer to make perfect schedule. 
Which holiday focused on by Misil Craft ?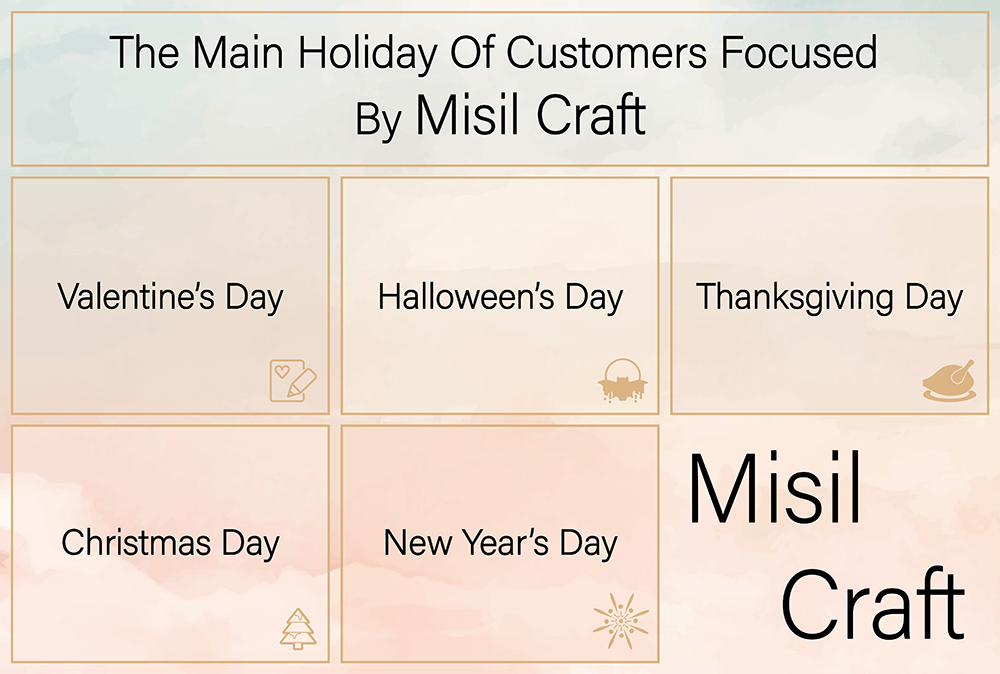 Tomb Sweeping Day from March 3rd to 5th
This festival is a day to pay respects to ancestors and pay respects to the deceased family members
Labor Day from May 1st to 5th
Dragon Boat Festival from June 3rd to 5th
We usually eat rice dumplings on this festival
Mid-autumn Festival Sep from 10th to 12th
We usually eat moon cake on this festival
National Day from Oct 1st to 7th
Spring Festival
This festival around 15 days normally and each year with different time, accurate date we can't show for now but it might be around end of Jan to 10th-15th of Feb for our customer's reference.
(Note : during this holiday our designer team and sales team still work, just production work closed. Thus during this time if our customers have any inquiry we both can accept and help to work, once finished holiday we can arrange production. Please kindly know as previous year we still have many clients support our work under this time, we will arrange production of order by this time firstly and then to arrange production of orders by finished holiday. Some of our customers need to prepare Valentine's Day advance, we are well understand and support on this work, try our best to offer in time service.)
Which holiday focused on by our customers ?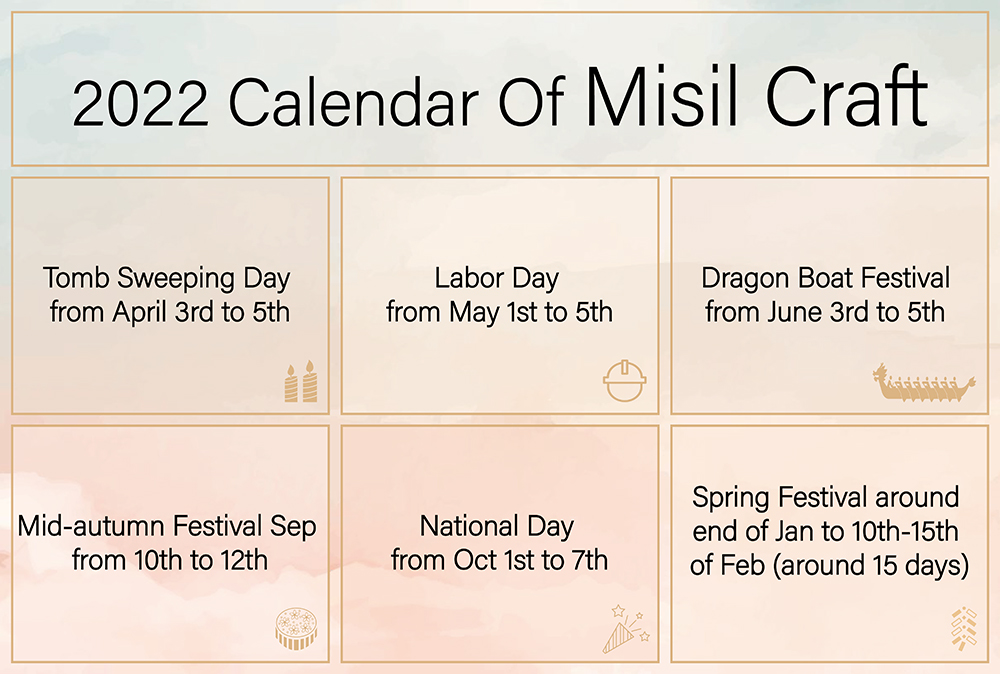 Misil Craft strive to set up long term cooperation relationship with our customers and each of our customer's inquiry or project,we would like to offer suggestion to save our customer's cost and help to win the more business market. Thus there are some our customer's holiday we focused on as we know these holiday bring more season event for our customers. So we have different discount planning during these holiday to offer to all of our customers.
Valentine's Day
Halloween's Day
Thanksgiving Day
Christmas Day
New Year's Day
All of above holiday we'd like to offer discount for our customers to get more market and save more profit. Details kindly contact us  to know more.
Except above holiday every year our marketing department will make some event planning to have more discount activity for our customers.
DON"T BE LATE AND CATCH ANYONE DISCOUNT CHANCE HERE !!!
---
Post time: Mar-12-2022